2017 !!! - THE SILKROAD ~Video
Publicerades den 19 juli 2014
https://www.youtube.com/channel/UC1N8.... This not for everyone I dont know if this true but, It is a shocker that will happen by 2017, the United States will no longer exist as a functional govt, a 'shotgun merger' with Mexico and Canada is soon ahead, press covers and announcements have already been prepared for the mainstream media for the events that lay ahead, and the capital of America will soon be repositioned in Denver, Colorado from Washington DC after the fall.
"There's no way to stop this" 'V's 4-star General contact warns, "the giant is dead".
~~~~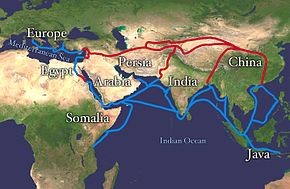 Old 'silk road' routes
Just small pieces of reality....
DO YOUR OWN RESEARCH!

~~~~
Jeremiah 50:41 "Behold, a people shall come from the north, And a great nation and many kings Shall be raised up from the ends of the earth. 42 They shall hold the bow and the lance; They are cruel and shall not show mercy.Their voice shall roar like the sea; They shall ride on horses, Set in array, like a man for the battle, Against you, O daughter of Babylon. 43 "The king of Babylon has heard the report about them, And his hands grow feeble; Anguish has taken hold of him, Pangs as of a woman in childbirth."
----
Luke 21:34-36, "But take heed to yourselves, lest your hearts be weighed down with carousing, drunkenness, and cares of this life, and that Day come on you unexpectedly. For it will come as a snare on all those who dwell on the face of the whole earth. Watch therefore, and pray always that you may be counted worthy to escape all these things that will come to pass, and to stand before the Son of Man."