Alphakurserna - Vad är problemet?


Kurskoncept för intresseväckande evangelisation och fördjupning i kristen tro - men är Alphakurserna enbart ett lovvärt initiativ?
Vad är Alpha?
Alpha är en tio veckor lång grundkurs i kristen tro. Tanken är att kursen skall väcka ett intresse för kristen tro och leda deltagarna till att ta steget in i den församling som erbjuder kursen.
Många församlingar använder därför dessa kurser som en slags evangelisationsmetod medan andra erbjuder Alpha för att ge sina medlemmar en djupare kunskap om kristen tro. Vårterminen 2010 startas i vårt land ca. 150 nya Alphakurser och tidigare har ca. 70.000 personer gått en en sådan kurs.
Alpha ett koncept och aktiebolag
För att en Alphakurs skall få lov att kallas Alpha måste den följa ett material och koncept som är framtaget av Nicky Gumbel i den anglikanska kyrkan Holy Trinity Brompton Church i London. Deltagarna skall köpa ett deltagarhäfte och handledarna skall följa handledarhäftet samt boken "Livets frågor".

På Alpha Sveriges webbplats finns en hel webbutik med material till Alphakurserna. Där finns allt från böcker och DVD-skivor med föredrag, till affischer, banderoller, roll ups och väskor. Alpha Sverige är ett växande aktiebolag som år 2008 omsatte 1,44 miljoner kronor, vilket är mer än en fördubbling jämfört med 2007. Så det säger något om Alphas växande popularitet.
En Alphakurs skall pågå i tio veckor och deltagarna skall träffas en kväll i veckan. Varje samling skall börja med en måltid. Sedan följer ett föredrag, utifrån kursmaterialet, och sedan gruppdiskussioner runt det ämne som är aktuellt för kvällen. Mitt i kursen skall deltagarna också åka iväg på en s.k. "Helig Ande-helg".
Oroande historia ett problem?
***
HAR DIN FÖRSAMLING ALPHA-KURS VILKEN "LEDER TILL ROM" OCH EN VÄRDSRELIGION OCH DÄRMED VÄLKOMNAR ANTIKRIST?
Om - fly därifrån och rädda din själ, vad än din pastor säger för att försvara denna!
***
11 Jag är den gode herden. Den gode herden ger sitt liv för fåren.
12 Den som är anställd springer sin väg när han ser vargen komma, och han överger fåren för de är inte hans och han är inte deras herde. Och vargen anfaller dem och skingrar flocken.
13 Den anställde har ingen omsorg om fåren.
14 Jag är den gode herden, och jag känner mina egna får, och de känner mig
__
2 Kor. 11:14
Satan själv gör sig lik en ljusets ängel. 15 Därför är det inte underligt att också hans tjänare uppträder som tjänare åt rättfärdigheten. Men de kommer att få det slut som de förtjänar.
__
(Alpha-kursen finns i Svenska Kyrkan, samfund, "kristna" organisationer - t.ex. Arken m.fl.)
___________________________________________________
The Dangers Of The Alpha Course


The Alpha Course is a course that has been used by many as a way to attempt to introduce the false doctrines and practices of the Third Wave into mainstream denominations.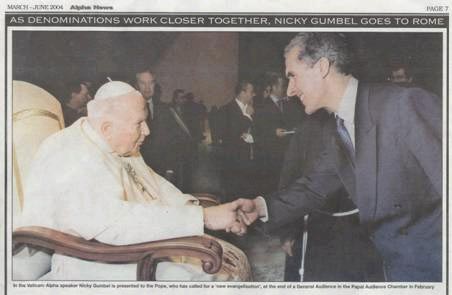 Pope and Gumbel making a satanic handsign
________________________________________
Tagged with:
Alpha-kurs, Antikrist, satan, demons, evil, SKR, samfund, svenska kyrkan, ekumeni, världskyrkan, påven, Gumbel, villfarelse, avfall