Christians Beware of Freemasonry!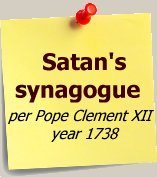 Since Freemasonry has attempted so strenuously to claim that they are just a "good ole boy" fraternity that does good works and has a good time, most people will be shocked to learn the bitter truth behind that facade. Freemasonry certainly isn't "free". It could cost you your soul.
Although they will deny it to you at first, most Masons find out in later degrees that the great lie of Masonry is exactly the same lie Satan is living. Masons think that through masonry one can chisel away layers of oneself, similar to how one creates a beautiful statue out of rough stone. And they think the end result will be no need for God; because they think the perfect Mason is like God. Pages 50-51 of the Mason handbook makes this quite clear - but not to the initiate. Masons are lied to about everything in the 1st three degrees. Satan and Masonry have the exact same goals. The secret goal of Masonry is to subjugate the world for Masonry, and be like God. This subjugation via behind the scene secret means is openly announced within the motto of the 33 degree Scottish Rite, which is "Ordo Ab Chao", or Order From Chaos. Masonry looks like a fraternity, but that's just to snare you.
Masons repeatedly are directed to the "Mystery Religion" and the time man found God in nature. Almost none of Masonry's teachings come from Christianity. This 'mystery religion' Masons have joined originated from pagans in ancient Egypt, Chaldea, and in China. The Mystery Religion, Freemasonry and all 'ancient' secret societies have one thing in common. They string you along, just to finally tell you that there is no God; and you are a god, because you follow their teachings, which are: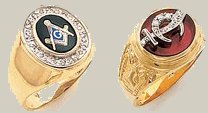 Relax. Be greedy. Be selfish - if these help you get ahead. Win at any cost. Enjoy your expensive Freemason diamond ring and other symbols, pay your hefty dues on time, and follow the Masonic - path. And you too will be successful - because there is no Hell, and no higher authority other than Lucifer; who is misunderstood.
Once Masons progress to the higher degrees and they finally believe the 'Masonic lie"; and they will 'understand' that the Grand Architect of the Universe is not the God of the Old or New Testaments, but instead is the perfect dues paying Mason in good standing, who like the statue example above, they chipped away at, and finally shed needless 'layers' from both their old useless religion, and from loyalties outside of Masonry, which all along were what concealed them from their own personal true image, as the one and only real God.
Having finally understood that, it may be too late for you - if you think you are a Christian, and also are a Mason; unless you repent to Jesus, return to your family, and flee from 'Satan's Synagogue'. Your diamond rings and other pagan Masonry jewelry won't make the least impression on Jesus. Satan 'sold' this same lie (you are a God) to Eve in Eden, and he sold this same lie to the Masons and earlier 'ancient' pagans.
May Jesus have mercy on your soul. Jesus answered, "Iam the way, the truth, and the life:no mancomethunto the Father, but byme".
Read more...
Tagged with: