Did Jews Help Plan the Holocaust? - The Mystery of Human Life
The Hoyer Memorandum suggests that Sabbatean (Illuminati) Jews were complicit in planning the extermination of their fellow Jews.
The purpose was to trauma brainwash Jews to believe they needed "a homeland" of their own when thanks to Freemasonry, they dominated every country they inhabited.

"My Jews knew full well, what world Jewry had in store for them and they were as helpless as the German people themselves." SS Lieut General Horst Hoyer


Revised and updated: The Jews' "Worst Enemy" is Now Ours - May 21, 2015

By Henry Makow Ph.D.
In 1962, Christopher Story was the only 'goy' working at Jewish banker "S. Japhet & Co." in the City. The Eichmann trial was in the news and Story asked a Jewish co-worker, a "nice middle aged lady," if Adolf Eichmann wasn't himself Jewish?
She replied:" Didn't you know that a Jew's greatest enemy is another Jew?"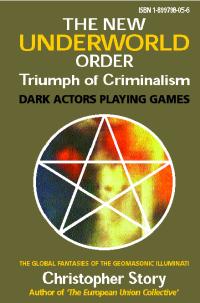 In his 2007 book, the New Underworld Order, Story writes that many Nazis who planned and implemented the Holocaust were in fact Jews. They "sided with the Luciferian German Nazis to exterminate millions of their own race in what amounted to an inter-Jewish civil war and ethnic cleansing operation..." (532)
The motivation? Prevent Jews from disappearing as a nation by tricking them into advancing the Jew World Order by becoming Nazis. He cites the famous article in the Jewish owned "Daily Express" headlined "Judea Declares War on Germany" (March 24, 1933). It states that Hitler "has aroused the whole Jewish people to a national consciousness." (535)
Before Hitler came to power, less than 3% of Germany's 500,000 Jews belonged to the Zionist movement.

We must remember that by the 1930's, 60% of all German Jewish marriages were interracial. See also, Hitler was a Godsend for Israel.
In his book, "Hitler's Jewish Soldiers" Brian Rigg states that 155,000 Nazi soldiers had Jewish blood, including some generals.


One of these generals , SS Lieut. General Horst Hoyer submitted a report in 1952 on the role Nazi Jews played in the Holocaust. Helping plan the "Final Solution" were Jews named Walter Sonnenschein, Zuckerhorn, Spitze, Lowenstein, Gregor and Feckler. Organized Jewry offered Hoyer 30,000 DM to suppress this report but he refused. He was murdered some years later. (533)
~~~~
Det är många som säger sig vara kristna som omedvetet och medvetet hjälper Satan i sin plan att förblinda och föra människorna till helvetet!
Hur är det t.ex. med "Himlen tv7" ?!
Är det alltid Gud som ger pengar !?
Har inte djävulen hur mycket som helst för att förverkliga sina planer ?!
Tagged with:
Sabbatean, Jews, Masonic Illuminati Order, NWO, satanists, Luciferians, Holocaust, Nazi, Himlen tv7, truth, Jesus Saviour, God´s Son, salvation