Frankfurt School--Cultural Decline Follows (((Communist))) Blueprint
'We will make the West so corrupt that it stinks.'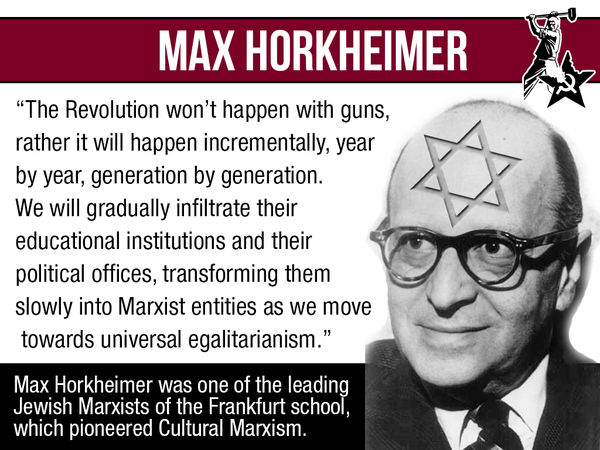 The Frankfurt School were a group of Marxist Jewish intellectuals at Frankfurt University in the 1920-1930's. (They emigrated to NYC after Hitler came to power.) They included
Max Horkheimer,
Theodor W. Adorno,
Herbert Marcuse &
Erich Fromm, and were responsible for the "New Left" and feminism. Financed by Jewish millionaire Felix Weill, they were instrumental in the degradation of Western society according to the long-term Cabalist Jewish (Satanist) plan outlined in the Protocols of Zion. The connection between Communism and Judaism is the Cabala, i.e. Freemasonry.
----
1. The creation of racism offences.
2. Continual change to create confusion
3. The teaching of sex and homosexuality to children
4. The undermining of schools' and teachers' authority
5. Huge immigration to destroy identity.
6. The promotion of excessive drinking
7. Emptying of churches
8. An unreliable legal system with bias against victims of crime
9. Creating dependency on the state or state benefits
10. Control and dumbing down of media
11. Encouraging the breakdown of the family
Tagged with:
MASONRY, POLITICAL CORRECTNESS, FRANKFURT SCHOOL, MAX HORKHEIMER, ERIC FROMM, BERTRAND RUSSEL, MARXISM, JUDAISM, COMMUNISM-ZIONISM, ENSLAVE, INDOCTRINATION, PROTOCOL OF ZION, SATANISM, SATANIC CULT, KABBALA, TALMUD, PERVERT