Jehovah's Witnesses EXPOSED!
Compiled and Edited by David J. Stewart

The Jehovah Witnesses are a Satanic organization, based upon the occult of Freemasonry. Charles Taze Russell was a 33rd Degree Freemason; as was Joseph Smith, founder of the Mormon cult. Carefully notice the Masonic cross at the upper left corner of the photo below...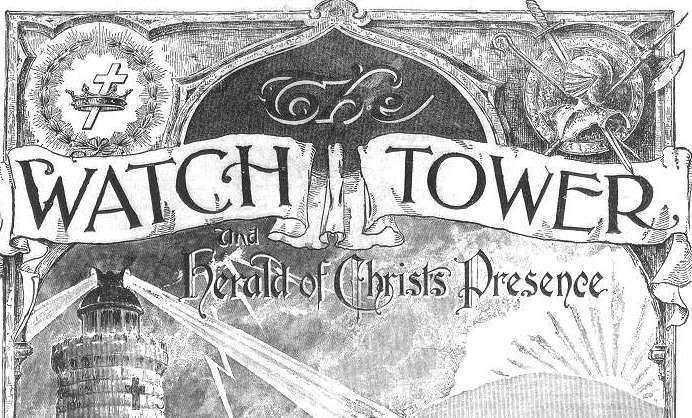 The Masonic cross used by the Masonic Jehovah's Witnesses
***
The founders of both "faiths," the Mormons and Jehovah's witnesses, were of the Illuminati bloodline. Charles Taze Russell, who founded the Watchtower Society (Jehovah Witnesses), was of the Illuminati Russell bloodline, which also founded the infamous Skull and Bones Society at Yale University. Charles Taze Russell was a Satanist, a pedophile according to his wife, and a friend of the Rothschilds. Indeed it was the Rothschilds who funded the Jehovah's Witness operation into being, along with other Illuminati bankers, through "contributions" by organizations like the Rothschild-controlled B'nai B'rith. This was proved in a court of law in 1922. One of the key people involved in this was Frank Goldman who later became President of B'nai B'rith. Why would an organization set up (in theory) to help Jewish people and promote the Jewish faith, be funding into existence the Jehovah's Witnesses??? I think the name Rothschild answers the question. Russell was also a high degree Freemason and Knights Templar. He promoted Zionism, another Rothschild creation (see Hitler was a Rothschild), on behalf of his friends and backers.
Read more

***
Tagged with:
Jehovah Witnesses, Zionism, Russel, freemason, Joseph Smith, Rothschild, satanic, elite, deception, lies, Skull and Bones, roman catholic church