UNITED & New Apostolic Reformation: Seeking Power Instead of God's Will
Here is one of the "apostles" preaching. [Yes she calls herself Apostle Barbara Yoder]
the New Apostolic Reformation movement, which right now is tied into Dominionism and seeking power on the "Seven Mountains". This is where the Dominionists seek control of arts and entertainment, business, education, family, government, media and religion, as the spheres of influence for so called "Christians" to conquer. This ignores Jesus's warnings about his kingdom not being of this world. The irony on this NAR website of stating right out there: "Become a change agent" is quite revealing. A 'change agent" is not anything good!

The more I have explored the NAR world the more I have been disturbed. A few years ago when I moved to my present community, and was going to visit churches, I went to visit a large Assembly of God, there they had us raise our right arm, and pray down "strongholds" and claim "territories" for God. I did not agree with this, feeling conviction, knowing that nations and territories are not corporately saved, human beings as individuals are. In other words praying over trees, or hunks of rock and stone is spiritually a waste of time.
~~~~
KEN SILVA WITH A WORD FROM GOD FOR NAR FALSE PROPHET CHUCK PIERCE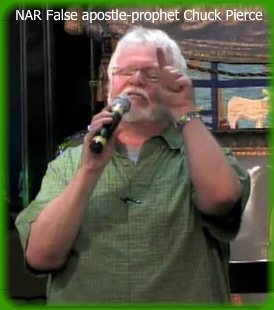 Apprising Ministries is doing what we can to warn you of a growing syncretism that I could never have imagined in my wildest dreams.
I was actually saved in a charismatic church and afterward had to move across the country for a job programming a couple of radio stations.
In time, as a young Christian, I would end up for a while in a Word Faith church, which was heavily influenced by that uber-nefarious WF heretic Kenneth Copeland.
My point being, when I write on these subjects, you need to know I've personally been there and done that; in other words, I know these movements first-hand.
Because of some of its biggest leaders are injecting themselves into the mix of the Christian Right, the New Apostolic Reformation finds itself under increasing scrutiny.

Och vad är detta: "UNITED" ?
Jo, det är enligt hemsidan "en ny frikyrka med tillhörighet i trossamfundet Pingst" (www.pingst.se) samt det europeiska nätverket EUROLEAD.NET (www.eurolead.net) ?
Är det ett affärsföretag i underhållningsbranschen för ungdomar ?
"UNITED" med vad/vem?
..."making Jesus Christ attractive to all..." - är en av deras målsättningar. Har man då inte missförstått hela evangeliet? Var i Bibeln kan du finna den målsättningen? Är det inte precis tvärtom - om du försöker bli vän med världen, så blir du en fiende till Gud?
~~~~

Ni trolösa avfällingar, vet ni då inte att världens vänskap är Guds ovänskap? Den som vill vara världens vän, han blir alltså Guds ovän. (Jakob 4:4)
Apostle Paul warned of this deception when he said,

"And then shall that Wicked be revealed, whom the Lord shall consume with the spirit of his mouth, and shall destroy with the brightness of his coming: Even him, whose coming is after the working of Satan with all power and signs and lying wonders, And with all deceivableness of unrighteousness in them that perish; because they received not the love of the truth, that they might be saved. And for this cause God shall send them strong delusion, that they should believe a lie. That they all might be damned who believed not the truth, but had pleasure in unrighteousness."

(2 Thessalonians 2:8-12).
Then I heard another voice calling from heaven, "Come away from her, my people. Do not take part in her sins, or you will be punished with her. (Revelation 18:4)
~~~~