POPE JOHN PAUL II USES ANOTHER BLACK MAGICK SATANIC SYMBOL FOR ANTICHRIST DURING
-HIS TRIP TO ISRAEL!
The article is some years old but of course still valid!
Subtitle: Shockingly, as the Pope is seated during a ceremony at the mount where Jesus supposedly gave His Sermon on the Mount, a stone behind the Pontiff's head depicts a Satanic inverted cross! This has always been one of the main Satanic symbols for Antichrist, even predating the Twisted Crucifix the Pope has always used.
The New World Order is coming! Are you ready? Once you understand what this New World Order really is, and how it is being gradually implemented, you will be able to see it progressing in your daily news!!
Learn how to protect yourself, your loved ones!
Stand by for insights so startling you will never look at the news the same way again.
YOU ARE NOW ON
THE CUTTING EDGE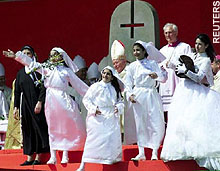 NEWS BRIEF: "80,000 Hear Pope's Sermon On The Mount", by Alan Philips on the Mount of the Beatitudes, Electronic Telegraph, http://www.telegraph.co.uk Saturday, 25 March 2000, Issue 1765..
"The Pope preached an updated Sermon on the Mount yesterday, urging the world's youth to become 'courageous apostles' of the teachings that Jesus pronounced on the shore of the Sea of Galilee. More than 80,000 people gathered for a Papal Mass on a site that looked at times like a religious rock festival. Young people came from 80 countries, clutching guitars, tambourines, and bongo drums. When the Mass was over, the site was alive with people dancing amid national flags and papal banners."
As you look closely at this picture, you simply cannot miss the blasphemous Satanic Inverted Cross behind the head of the seated Pontiff. In fact, this Inverted Cross is so jarring to my senses that I cannot look at it for more than a few moments before I have to look away. Of all the Satanic symbols, the Inverted Cross is the most cruel caricature of the true Cross of Calvary. I simply cannot stand the sight of the cross upon which my Savior died for my sins -- and yours -- turned upside down to depict Antichrist. Remember, the true definition of Antichrist is "he who comes in the guise of Christ".
Make no mistake about the fact that the Inverted Cross predates that other Vatican symbol for Antichrist, the Twisted Crucifix, which this Pope has been using at every stop on this trip to the Middle East. [Read NEWS1359 for full details and a picture of this Twisted Cross Crucifix]. Satanists created the Twisted Cross in 666 A.D. to caricature the Roman Catholic traditional Crucifix, but quickly adopted it as one of their many symbols for Antichrist. Faithful Catholics have been unknowingly bowing down to this symbol of Antichrist since 1963, when Pope Paul VI began using it for his public ceremonies. At that time, occult adepts of all secret societies realized this symbol suddenly being used by the Paul VI meant only one thing: the Illuminati now controlled the Vatican ! Finally, after over 200 years of struggle, the Black Magick forces of the Masters of the Illuminati controlled the Vatican, vanquishing the White Magic practitioners who had held power since Constantine.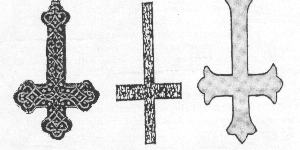 Now, approximately 37 years later, this Pope feels it is time to introduce to the unknowing faithful the most dastardly symbols of Antichrist ever created, the Inverted Cross . The genuine Christian holds such reverence for the empty cross upon which Jesus died; think of the many songs we sing which extol the precious cross of Calvary.
* The Old Rugged Cross -- "On a hill far away stood an old rugged cross, The emblem of suffering and shame; And I love that old cross where the dearest and best, For a world of lost sinners was slain. So I'll cherish the old rugged cross, Till my trophies at last I lay down; I will cling to the old rugged cross, And exchange it someday for a crown." Verse 2: "O that old rugged cross, so despised by the world ..."
* When I Survey the Wondrous Cross -- "When I survey the wondrous cross, On which the Prince of glory died, My richest gain I count but loss, And pour contempt on all my pride ... See, from His head, His hands, His feet, Sorrow and love flow mingled down, Did e'er such love and sorrow meet, Or thorns compose so rich a crown?"
* Burdens Are Lifted At Calvary -- "Burdens are lifted at Calvary, Jesus is very near."
* Near The Cross -- "Jesus, keep me near the cross -- There a precious fountain, Free to all, a healing stream, Flows from Calvary's mountain. In the cross, in the cross, Be my glory ever, Till my raptured soul shall find Rest, beyond the river."
* Room at the Cross for You -- "The cross upon which Jesus died, Is a shelter in which we can hide; And its grace so free is sufficient for me, And deep is its fountain - as wide as the sea ... The hand of my Savior is strong, And the love of my Savior is long; Through sunshine or rain, through loss or in gain, The blood flows from Calvary to cleanse every stain. There's room at the cross for you, There's room at the cross for you; Tho millions have come, There's still room for one -- Yes, there's room at the cross for you."
These songs are just representative of the many we sing which extol the cruel cross upon which Jesus Christ bought our eternal freedom. The cross has become a precious symbol of that unbelievable love Jesus showed us, when He came to earth as a human, lived a Perfect Life, and then died tortuously to purchase our eternal life through His shed blood.
However, since our hearts fill with love of the Cross, Satan's mind is filled with inexpressible fury at it. He loses no opportunity to degrade its meaning and its impact upon our lives. The traditional White Magic practitioners of the Vatican have degraded the cross by symbolically daily placing Jesus back on it, even though the Bible is very clear that the Messiah is only to struck once. But, the Black Magick Illuminists now in charge at the Vatican have revived two of the deep, dark Satanic symbols of Antichrist -- and both of them are crosses!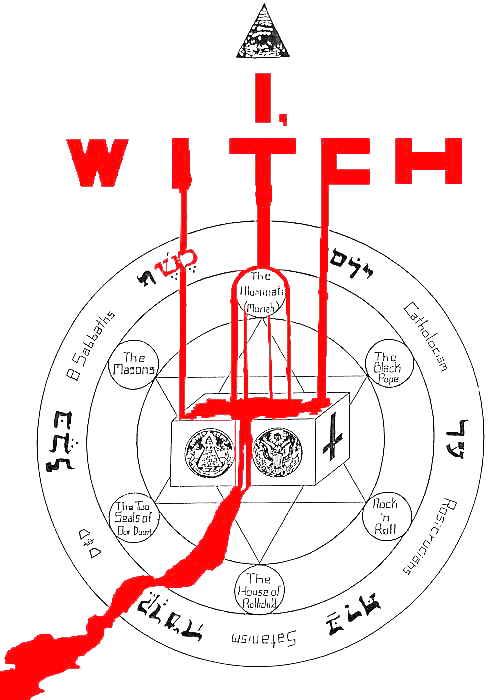 This symbol is the Black Magick Illuminist representation as to the many organizations working together to achieve the Kingdom of Antichrist. All the red flowing from the lettering above this symbol represents human blood flowing in Satanic sacrifice. Satanists understand that the New World Order of Antichrist cannot be established until enormous amounts of human blood have flowed in sacrifice to him. Any human murder that has been planned counts as a sacrifice for this purpose: wars, abortion, infanticide, euthanasia, and eventually, martyrdom.
Notice that this symbol has the insidious six-figure hexagram in its middle, surrounded by two (2) circles; whenever, a hexagram is surrounded by a circle, it becomes a demon-trap, into which a shaman can actually call demons into this dimension to do his bidding.
Notice, also, that this symbol has an altar in the middle on which all these sacrifices will be symbolically placed for sacrifice to Lord Satan. At the extreme right end of this altar is the Inverted Cross! Therefore, the true impact of this Inverted Cross behind the Pontiff's head is that the world must be very close to the time when all enemies of Antichrist will be placed upon Satan's altar to be sacrificed above his cross. Indeed, this Pontiff has reestablished the Office of the Inquisition, now called the Office of the Defender of the Faith, with Cardinal Ratzinger as its head. The Bible does foretell the worst persecution of the Born Again Christian during the time of Antichrist.
Now, many dear Roman Catholics have been lied to about this Inverted Cross. They are told that this is the cross on which the Apostle Peter was crucified. Indeed, Peter was crucified upside down because he felt unworthy to be crucified in the same manner as his Lord and Savior. However, historical records indicate that, while Peter was nailed on the cross upside down, the cross was set in the ground just the same upright way that the Roman executioners always set it. In other words, the cross was not inverted! Peter was inverted, not the cross. This convenient lie was told a long time ago within the Catholic Church to hide the fact that the usage of this cross was taken directly from hard-core Satanism. Do not be deceived on this point!
Read the rest HERE
UPPENBARELSEBOKEN 13
1. Då såg jag ett vilddjur stiga upp ur havet; det hade tio horn
och sju huvuden, och på sina horn hade det tio kronor och på
sina huvuden hädiska namn.

2. Och vilddjuret, som jag såg, liknade en panter, men det hade
fötter såsom en björn och gap såsom ett lejon. Och draken gav
det sin makt och sin tron och gav det stor myndighet.

3. Och jag såg ett av dess huvuden vara likasom sårat till döds,
men dess dödssår blev läkt. Och hela jorden såg med förundran
efter vilddjuret.
4. Och de tillbad draken, därför att han hade gett vilddjuret sådan
myndighet; de tillbad också vilddjuret och sade "Vem är lik
vilddjuret, och vem kan strida mot det?"

5. Och det fick en mun sig given, som talade stora ord och vad
hädiskt var, och det fick makt att så göra under fyrtiotvå
månader.

6. Och den öppnade sin mun till att föra hädiskt tal mot Gud,
till att häda hans namn och hans tabernakel och dem som bor i
himmelen.

7. Och det fick makt att föra krig mot de heliga och att övervinna
dem; och det fick makt över alla stammar och folk och tungomål
och folkslag.

8. Och alla jordens inbyggare ska tillbe det, ja, envar som inte
har sitt namn från världens begynnelse skrivet i livets bok, det
slaktade Lammets bok.
___
Påven den falske profeten...?!
Tagged with:
NWO, UN, EU, CIA, FBI, elite, globalists, false prophets, Satan, Antichrist, pope Francis, pope Benedict, pope John Paul, catholic church, wars, abortion, infanticide, euthanasia, Illuminati, zionism, Israel, Black Magick, hexagram, Twisted Crucifix, Inverted Cross, Bible