Pentecostal preachers - The Prosperity Preaching - Johannes Amritzer
Born-again churches in Africa are becoming ever more popular, politically powerful, and lucrative. But criticism may also be growing.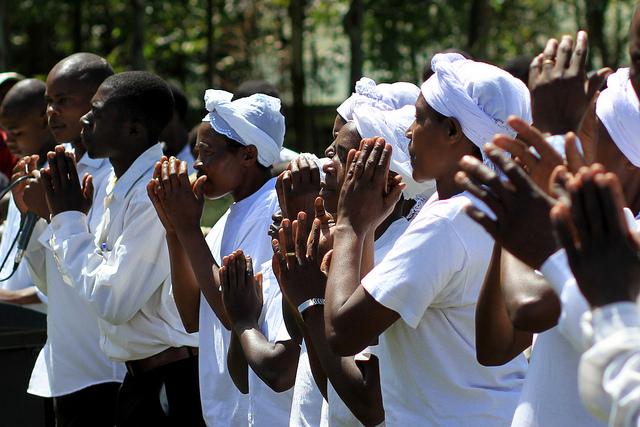 Pentecostalism has skyrocketed in popularity in Africa over the past few decades. Credit: Adam Cohn.
On a bright Sunday morning, the roads on the slopes of Makerere are still muddy from yesterday's heavy downpours. But these adverse conditions are little discouragement to the throngs of worshippers making their way to the House of Prayer Ministries International in Uganda's capital of Kampala. Thousands disembark from cars and boda-boda or walk on foot to the church premises where they pass through security checks and take their seats under huge tents.
The person they are here to see first and foremost is the Pentecostal pastor Aloysius Bugingo. The father of four used to be part of the Victory Christian Centre led by the prominent preacher Joseph Sserwadda, but after the two men fell out a few years ago, Bugingo set up his own church. Since then, the charismatic performer has drawn huge crowds, preaching a provocative message that has proven as popular as it is controversial.
"You see all these people," he says to African Arguments, pointing to the multitudes of churchgoers watching as the choir opens proceedings. "Many have been robbed of their properties and money, been raped, promised instant miracles and many other things you can't mention by our own pastors".
He explains that under the so-called 'prosperity gospel', many Pentecostal preachers tell worshippers that in return for donating huge sums of money, they will be cured of diseases or be rewarded in material wealth several times over. But Bugingo condemns these teachings.
"This business of pastors sending invitation letters to flocks with instructions on how much money they should give in church is real robbery," he says. "If you tell people to sow in order to prosper, are you a magician to ensure overnight riches?"
----
Many worshippers across the continent have lost large sums of money to Pentecostal churches, and many citizens blame governments for failing to better protect churchgoers against exploitation. However, it should be noted that another aspect of the rise of Pentecostalism has been the growing political power of these churches, which have used their popularity, wealth, and sometimes support from US churches to exert influence.
~~~~
I går på "mot" -- "Människor och Tro" på P1, kunde man höra pingstvännen Johannes Amritzer tala om vad han och Andreas Jensen har för planer för Sverige.
Bl.a. hörde jag honom säga att invandrare behöver hem som en av orsakerna - "man kan bjuda hem dem på fika".
Deras planer (som pingstvänner) är att göra Sveriges folk till ett missionsfält.
De får tydligen enligt uppgift på "mot" (torsdagen den 9 mars) flera millioner i stöd från USA och därifrån ser de också till att USA skickar predikanter.
---
Här kan du läsa mer: "Vi blev helt chockade över hur mycket pengar som kom in, och det blev ännu en indikation som gjorde oss säkra"
Kommentar till citatet: Det finns en djävul som gör under i sin efterapning av Gud, vilket kristna borde känna till!
När Antikrist uppenbarar sig ska man känna igen honom bl.a. genom de stora under han utför. 2 Tess. 2:9
~~~~

Vad säger Gud i sitt Ord?!
1 Johannes 2:9-11 "Den som går vidare och inte blir kvar i Kristi lära, han har inte Gud. Den som blir kvar i hans lära, han har både Fadern och Sonen. Om någon kommer till er och inte har med sig denna lära ska ni inte ta emot honom i ert hem eller hälsa honom välkommen. Den som välkomnar en sådan gör sig medskyldig till hans onda gärningar."
Johannes Amritzer och hans kompanjon Andreas Jensen tål att granskas vilket denna blogg kommer att göra.
Lyder de Gudsordet?
Har de rätt lära? Vad har de för mål?
EGENTLIGEN ONÖDIGA FRÅGOR DÅ PINGSTKYRKORNA (OCH ALLA SAMFUND/KYRKOR) REDAN HAR INGÅTT I VÄRLDSKYRKAN (ANTIKRISTS KYRKA), VILKET MAN KAN SE PÅ SVERIGES KRISTNA RÅDS HEMSIDA.
Om Amritzer har ett gott mål och är sänd av Gud, varför använder han sig av pingstkyrkor?!
Alla som älskar sanningen och söker den vet att Satan verkar i Sverige och i hela världen genom samfund och kyrkor, genom EKUMENIN och allt som därmed förs in i det som kallas Guds församling - som inte är Guds församling - utan är en Satans synagoga.
1 Johannes 4:1 "Mina älskade, tro inte alla andar utan pröva andarna om de kommer från Gud. Ty många falska profeter har gått ut i världen."
~~~~
ÄLSKAR DU - SOM SÄGER DIG VARA EN KRISTEN - SANNINGEN ELLER ÄR DU EN ULV I FÅRAKLÄDER?


Tagged with:
'prosperity gospel', ECUMENISM, WORLDCHURCH, ANTICHRIST, JOHANNES AMRITZER, ANDREAS JENSEN, NWO, SATAN, WORLDPOWER, FALSE PREACHERS, JESUS, BIBLE, GOD