Rick Joyner, Todd Bentley, Ulf Ekman & A BIBLICAL LOOK AT THE TORONTO BLESSING
Matt. 24:25 "False christs and false prophets are going to appear and produce great signs and wonders to mislead, if it were possible, even God's own people. Listen, I am warning you."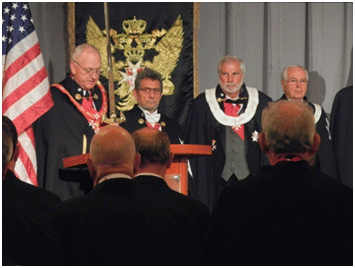 Todd Bentley predicted big "like Finney" revival, which is long overdue to start, in Finland
The revival that Todd Bentley predicted for Fresno is now overdue. By perhaps 12 years but at least 10 months
Knappast den Helige Ande utan mindcontrol, hypnos, köttet och demoner...
APPRISING MINISTRIES EXCLUSIVE: GOD STRUCK DOWN MALCOLM WICKS FOR OPPOSING TODD BENTLEY?
NWO-Knights of Malta Rick Joyner: "Our Only Hope Is A Military Takeover"
"A Christian TV host this week called on God to consider a "military takeover" of President Barack Obama's government because it could be the only way to save the country from tyranny. On his Monday Internet broadcast, Morning Star TV's Rick Joyner predicted that democracy was "doomed" unless the Lord imposed martial law." see the video here where he calls for a military take over!
Kan det vara tydligare bevisat att RJ tjänar "eliten", NWO och Satan?
Och ändå är de som säger sig vara kristna helt förtrollade av denna rörelse - Toronto Blessing och New Wine med dess falska profeter.
Detta finns nu i hela Sverige, i alla samfund, i "kristna" organisationer och i kyrkor!
Det är detta som Rick Joyner och kompani håller på med! Var beredd att stänga av när det blir för mycket!
******
The Knights of Malta is an ecumenical world organization
As you recall from yesterday's post, I believe Rick Joyner will be instrumental in helping the Charismatic/Prophetic movement deliver the Church into Lucifer's hands for the cause of the one-world religion.
A BIBLICAL LOOK AT THE TORONTO BLESSING
Many Christians believe that we are living in the "end days" as predicted by the Bible. That there are many "signs" given by Jesus which will precede His coming for His Bride, the Church, is clear in Scripture. One of these signs is recorded for us in Matthew 24:24, "For false Christs (Greek meaning – "anointed ones") and false prophets will rise and show great signs and wonders to deceive …" Although this is a clear sign during the last days, this spiritual deception is not confined to the "end days" but has been something that the church had to deal with since its early life.
"But there were also false prophets among the people,
even as there will be false teachers among you, who
will secretly bring in destructive heresies … And many
will follow their destructive ways … (2 Peter 2:1,2).
"Beloved, do not believe every spirit, but test the spirits,
whether they are of God, because many false prophets
have gone out into the world" (1 John 4:1).
To Biblically evaluate the "Toronto Blessing" we first need to establish a basis for our evaluation against which we can measure the teachings and manifestations of the Toronto Blessing. The need to do this objectively and fairly necessitates a "standard" or "criterion" that is truthful and above reproach, against which we can compare and investigate this matter. The ONLY truthful standard that we can use to measure any and all spiritual teachings and phenomena, is the Word of God, the Bible:
_____
- Many who are caught up in the "Toronto Blessing" are those who sincerely desired a deeper and closer walk with God, and so, in ignorance, have opened themselves up to this deception. If you realize that you have erred by getting involved in this movement or its manifestations, I would remind you that God is a loving Father who sees the heart rather than the outward appearance (1 Sam. 16:7). He is more than willing to forgive and restore anyone who comes to Him in true repentance.
******
2 Tess. 2:11. Därför sänder också Gud över dem villfarelsens makt, så att de sätter tro till lögnen, 12. för att de ska bli dömda, alla dessa som inte har satt tro till sanningen, utan funnit behag i orättfärdigheten.
2 Tim. 4:3 For the time will come when they will not endure sound doctrine; but after their own lusts shall they heap to themselves teachers, having itching ears.
******
Och här har vi "vår egen" falske profet Ulf Ekman som leder kristna bort från Gud:
The Pentecostal Church in Norway has embraced Ulf Ekman. Many have warned that Ekman is a Temple Knight who serve the Vatican.
******
På söndag börjar Kyrkornas globala vecka med temat "Helig fred – tro som fredsskapare".
De ekumeniska kyrkornas vecka, som INTE är från Gud!
The Message Of False Prophecy: "Peace, Peace"--Without Repentance
Jer 5:11-13 (NIV) "The house of Israel and the house of Judah have been utterly unfaithful to me," declares the Lord. "They have lied about the Lord; they said, 'He will do nothing! No harm will come to us; we will never see sword or famine.' The prophets are but wind and the word is not in them..." (Ez 13:7, De 29:19)
Tagged with:
ecumenical, Pope, Vatican, deception, lies, Rick Joyner, Todd Bentley, Ulf Ekman, satan, Toronto Blessing, New Wine, samfund, kyrkor, Sverige, Knights of Malta, NWO, eliten, Antikrist