SHOCKING - MURDER BY VACCINATION (INJECTION) EUSTACE MULLINS
Eustace Mullins (1923-2010), discusses one of his best-selling books; 'Murder by Injection' exposing the unholy dynasty of the big drug companies, the medical establishment, the Rockefeller syndicate and the evils of the cut-slash-and-burn cancer racket that has killed millions in the name of 'fighting cancer.'

While there are many books on the corruption of modern medicine, there is no other book out there that so effectively tells the whole story as does this seminal volume, laying bare the criminal machinations of those who profit in the name of "promoting good health." The federal bureaucracy that ostensibly "regulates" the big drug companies is all part and parcel of the problem.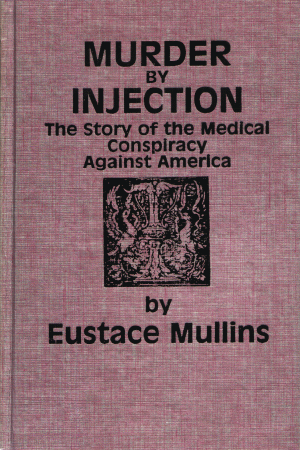 Murder by Injection: The Story of the Medical Conspiracy Against America
-Homeopathy is of even greater significance to our time, because it works through the immune system, using nontoxic doses of substances which are similar to those causing the illness. Even today, Queen Elizabeth is still treated by her personal homeopathic physician at Buckingham Palace. Yet, in the United States, organized medicine continues its frenetic drive to discredit and stamp out the practice of homeopathic medicine.
-The principal source of the fluoridation is a poisonous chemical, sodium fluoride, which has long been the principal ingredient of rat poison. Whether the adding of this compound to our drinking water is also part of a rat control program has never been publicly discussed. The EPA released its latest estimate, that 38 million Americans are now drinking unsafe water, which contains unsafe levels of chlorine, lead and other toxic substances.
Tagged with:
Eustace Mullins, Homeopathy, physicians, sinister, American Medical Association, federal agents, federal agencies, Carnegie Foundations, monopoly, cold-blooded tycoons, DEATH, vaccine, murder, crimes, elite, illuminati, zionsim, FLUOR, Rockefeller, Rothschild, World Order-NWO