THE JERUSALEM SANHEDRIN PREPARES TO ENFORCE THE NOAHIDE LAWS
"A new, Biblically correct United Nations
______________________________________________________________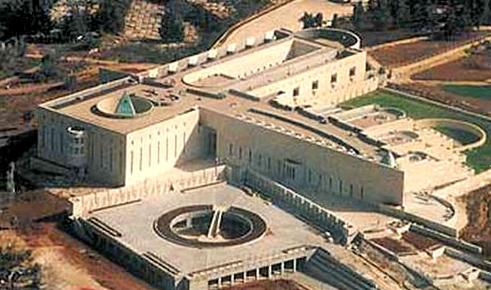 "On Monday night, approximately one thousand people gathered at the foot of the Temple Mount for the World Creation Concert. However, what took place was not merely wonderful music accompanied by a spectacular light show: the event actually encapsulated several prophetic incidents taking place at once. In the not-so-distant future, the event may be identified as the moment a new, Biblically correct United Nations was established, potentially leading to a new era of global cooperation...
"For several months preceding the event, the Sanhedrin had worked to contact foreign governments, inviting them to take their place as representatives of the 70 nations who populated the world, listed in the Bible as the grandsons of Noah. Honduras, Guatemala and Mexico answered the call, sending high-ranking delegations to attend.
THE JERUSALEM CONSPIRACY
*MUST SEE BEFORE IT IS CENSORED*
----
The book of Revelation prophesies a period of unprecedented violence, suffering and genocide, when peace will be taken from the earth, after which a kingdom shall arise that will devour the whole earth, and shall tread it down, and break it in pieces. This rebellious world will not repent of its sexual perversion despite the warnings and judgments of God.
Mankind is presently rushing headlong into this Tribulation period but large swaths of the Church seem not to notice. The Reformed think the theocracy they are building is the Kingdom of God. Instead of stanching the floodtide of sin in the culture, the apostate Church has joined the culture and is leading the human race to Judgment.
Luke 21:35 warns "For as a snare shall it come on all them that dwell on the face of the whole earth." The day of the Lord will take the world and the apostate Church by surprise.

----
~~~~
1 Thessalonians 5:3 For when they shall say, Peace and safety; then sudden destruction cometh upon them, as travail upon a woman with child; and they shall not escape.

Revelation 20:4 And I saw thrones, and they sat upon them, and judgment was given unto them: and I saw the souls of them that were beheaded for the witness of Jesus, and for the word of God, and which had not worshipped the beast, neither his image, neither had received his mark upon their foreheads, or in their hands; and they lived and reigned with Christ a thousand years.
~~~~
Jesus Christ is very soon coming back!
ARE YOU READY TO RECEIVE HIM - TO WELCOME HIM? IF NOT YOU WILL BE SENT INTO HELL - for ever!
(Probably the Christian Zionists regret too late their idolization of the antichrist jews and the state of Israel!)
BUY AND READ YOUR BIBLE BEFORE IT IS TOO LATE! THEY WILL BURN ALL BIBLES SOON! HURRY UP!
In the Bible everything is told!!!
~~~~
To Hell and Back - Michael O Brien's Testimony ~ Video
Tagged with:
UN/FN, satan-lucifer, fabian society, communism, sexual perversion, abortion, marxism, gnosticism, racism, illegal immigration, rabbi hillel weiss, jonathan leeman, antichrists, zionism, judaism, conspiracy, talmud, kabbala, noahide laws, decapitation, sanhedrin, rabbi schneerson, israel, endtime, Jesus