Talmud Lies Exposed by Richard Boyden
It is the Talmudic Jews and the Noahide Laws that are really behind the New World Order and the enforcement of the coming persecution of Christians.
NOAHIDE LAWS = Decapitation for Confessing "JESUS or Yahushua IS LORD"

Read THE TALMUD UNMASKED: THE SECRET RABBINICAL TEACHINGS CONCERNING CHRISTIANS
The Jewish Encyclopedia envisages a Noahide regime as a possible world order immediately preceding the universal reign of the Talmud.

They are not talking about the Noah of the Bible when they are referring to "Noahide law," but the Noahide law as understood and interpreted by the absolute system of falsification that constitutes the Talmud.

Under the Talmud's counterfeit Noahide Laws, the worship of Yahushua is forbidden under penalty of death, since such worship of Christ is condemned by Judaism as idolatry. Meanwhile various forms of incest are permitted under the Talmudic understanding of the Noahide code. (Enziklopediya Talmudit, note 1, pp. 351-352).

The Talmud also states the penalty for disobedience: "One additional element of greater severity is that violation of any one of the seven laws subjects the Noahide to capital punishment by decapitation. (Sanh. 57A)"

(Talmud - Sukkah 52a). With the end of free will, the opportunity to earn reward and enhance one's portion in the World to Come will also cease -- forever.

Revelation :20:4: And I saw thrones, and they sat upon them, and judgment was given unto them: and I saw the souls of them that were beheaded for the witness of Jesus, and for the word of God, and which had not worshipped the beast, neither his image, neither had received his mark upon their foreheads, or in their hands; and they lived and reigned with Christ a thousand years.

Maimonides Mishnah Torah, in Chapter 10 of the English Translation, states concerning Jesus Christ:
"It is a mitzvah [religious duty; ARC], however, to eradicate Jewish traitors, minnim, and apikorsim, and to cause them to descend to the pit of destruction, since they cause difficulty to the Jews and sway the people away from God, as did Jesus of Nazareth and his students, and Tzadok, Baithos, and their students. May the name of the wicked rot." 6

And WHO Supports This?
George Bush, indicated in Public Law 102-14, 102nd Congress, that the United States of America was founded upon the Seven Universal Laws of Noah. He was referring to the Talmudic Noahide Laws.....
This can be a SDA-author, so test everything and keep that which is good!
Website of the author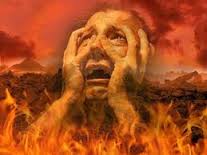 "And fear not them which kill the body, but

are not able to kill the soul: but rather fear

him which is able to destroy both soul

and body in hell." Jesus Christ
Taggat med:
Talmud, Kabbalah, Jews, Synagogue of Satan, deception, intrigues, tortures, bloodbaths, blasphemous, racists, sadism, criminals, Satan, Antichrist, zionism, Noahide Laws, nazism, communism, concentration camps, rabbis, George Bush, Jesus Messiah, God, God´s Wrath