The Masonic Ritual of Baseball By Pilgrim, using much content found elsewhere ..
on the internet


Appropriately called "America's Pastime", baseball is less a sport than it is a ritual. It is slow paced, the players are immobile most of the time, standing on geometric shapes. The philosopher Morris Raphael Cohen described baseball as a national religion. Almost all ancient civilizations had some sort of ritualistic sporting events that mixed athletic prowess and religious beliefs.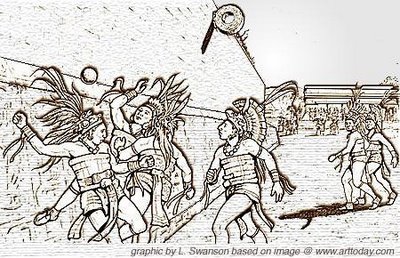 The Mayan's ball game, which resembled somewhat our basketball. The goal was to get the ball through one of the rings situated about 20 feet above the players without the use of hands. This game was a solemn experience, filled with ritual importance. Religious leaders attended, as did most chieftains and other government leaders. Sacred songs were sung and the games usually finished with a human sacrifice. The ball, the shape of the court and the rings all had important meanings in Mayan beliefs.
Playing ball engaged one in the maintenance of the cosmic order of the universe and the ritual regeneration of life. It was a game of chance, skill and trickery reflecting life. The team effort engaged individuals in shared behaviour and culture, introducing, reinforcing and reinventing the game of life and peoples' place in the cosmic order.
Are we that different from the Mayas, the Greeks, the Romans and almost all other civilizations? Well, the Freemasons, the most prominent society in America, are IMMENSELY inspired by ancient cultures like the Egyptians, Babylonians and Phoenicians. They study their rituals, their mythology and their knowledge of mathematics, geometry and astrology. Is it possible that the Masons devised their own "ritual" game which celebrates their sacred symbols?