Thorbjørn Jagland gave the Nobel Peace Prize to his own office!
Europeiska unionen fick Nobels fredspris
Nobels fredspris går i år till EU, meddelar Nobelkommittén i Oslo.EU-projektet har "bidragit till fred och försoning i Europa", säger Nobelkommitténs ordförande Thorbjörn Jagland vid presskonferensen.
Skrattretande!
Och vår utrikesminister Carl Bildt avslöjar sig när han säger att han välkomnar att EU fick priset. Bildt sitter i den ondskefulla klubben "Club of Rome" (se videon och medlemslistan) som en av de 300 som bestämmer EUs öde! Tala om partiskhet!
Thorbjørn Jagland Chair of the Nobel Committee. Secretary-general Council of Europe.
Secretary-general Council of Europe gave the prize to his own office! Isn´t that cunning as the devil himself?! Isn´t that BIAS/JÄV/PARTISK so what is?
Thorbjørn Jagland Secretary-General of the Council of Europe
Jagland think that we are easy to be duped! They have one aim that is to get AntiChrist on the trone and to form NWO! They are all tools of Satan!
You can't nominate yourself or others for the prize, and you can't campaign to be chosen the winner.
Secretary General Thorbjørn Jagland will meet President Viktor Yanukovych and Foreign Minister Kostyantyn Gryshchenko in Kyiv on Monday 10 September and address a conference on the progress of the Council of Europe's Action Plan for Ukraine.
Norway and Switzerland are not members of the European Union. Norway is a member of the Schengen Treaty. Switzerland is neutral and independent with its own individual visa and immigration procedures.
Norway is NOT a member of EU and still Thorbjørn Jagland is working for EU! Can anyone explain!
Brundtland is also a member of the Club de Madrid, an independent ... from Norwegian politics, and was succeeded by Thorbjørn Jagland.
Brundland and the masonic sign "an elite of the highest order.."?
Alex Newman talks with Gro Harlem Brundtland & Mary Robinson
Alex Newman catches up with Gro Harlem Brundtland (former Prime Minister of Norway) & Mary Robinson (former President of Ireland) to talk to them regarding the planet's growing population.
Seems as Gro Harlem Brundland has a bad conscience or is she afraid...

Jim Rogers: Nobel Farce Prize won't save EU from pain, cuts & riots
The Nobel academy's decided that 2012's best example of delivering peace and harmony is - the EU! Its prize is a million euros - money it can certainly do with right now. But it'll be tough to swallow for the hundreds of thousands of Europeans who've been angrily and violently protesting for years against governments forcing harsh cuts and tougher living conditions on them.
Tyrants Now Eligible for Nobel Peace Prize
Paul Joseph Watson discusses the surreal decision to award the Nobel Peace Price to the EU.
Farage Slams Nobel Peace Prize Farce As "Insurgency And Violence" Reign
We noted earlier the somewhat surrealistic decision to award the Nobel Peace Prize to the European Union (though entirely consistent it would seem given their previous 'Obama' decision) but now UKIP's Nigel Farage has weighed in with his 'boots on the ground' perspective of this farce.
The Nobel Peace Prize Is a Joke
Once again, the toothless committee of unexceptional Norwegians has bestowed the world's highest honor not for achievement, but for expectation. Hey EU! Kissinger and Obama are waiting to congratulate you backstage.
Nobel peace prize award is ridiculous, says East Lancs MEP
"This is a ridiculous decision. You only have to open your eyes to see the increasing violence and division within the EU which is caused by the Euro project" he said.
And it is as I said, also BIAS and unlawful as Jagland works for EU as the Secretary-General of the Council of Europe !
WTF: Despite its War Crimes, European Union wins Nobel peace prize...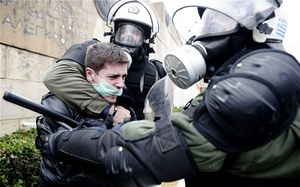 The 2012 Nobel peace prize has been awarded to the European Union, with the Norwegian committee ignoring the current economic crisis and instead praising the EU's decades-long historical role in promoting reconciliation and peace.
All the News That's Upside Down: EU Wins Nobel Peace Prize, Globalists Pushing for War and the One Party VP Debate
"Twenty years ago this prize would have been sycophantic but maybe more justified. Today it is downright out of touch" said UKIP's Nigel Farage, in response to the absolutely absurd announcement that the EU is the latest recipient of the Nobel Peace Prize.
Nobel peace prize awarded to the European Union
The European Union has won the Nobel peace prize for its efforts to promote peace and democracy in Europe, in the midst of the Union's biggest crisis since its creation in the 1950s. European Commission President Jose Barroso called it a "justified recognition"of a unique project that works for the benefit of its citizens and the world.
I have no other words for these men and for the Nobel Peace committee that they are a bunch of fools and liers. -alert
Nobel Peace Prize: Joke of the Century
After all, why shouldn't an Institution which awarded Barack Obama the Peace Prize back in 2009 when his country was actively engaged in two wars not award the EU, whose states were actively engaged just last year in the most disgusting and flagrant breach of international law, the most heinous act of terrorism, the most despicable support for murderers, rapists, arsonists and torturers in the war in Libya (which by the way is far from "won")?
"När de berömde sig av att vara visa, blev de dårar." Romarbrevet 1:22
Tycker en av våra blinda svenska predikanter - Stefan Swärd.
Och här har vi en till blind kristen i Sverige som fallit i Globalisternas händer - Alf Svensson:
Kristna Fredsrörelsen kallar utnämningen en jättestor besvikelse. Men Alf Svensson, kristdemokratisk europaparlamentariker, tycker att det var ett utomordentligt val.
Här en video för blinda "kristna" kanske Gud i sin nåd gör ett under så era ögon öppnas: