Vad är sanning?
Pilatus sa: Vad är sanning? (Joh. 18:38)
Även jag ställde den frågan:
VAD ÄR SANNING? (Läs mitt vittnesbörd)
Varför lät Pilatus mörda Jesus?
Därför att han lyssnade på de som ville korsfästa Jesus.
Han lyssnade på judarna.
Hela världen lyssnar nu på judarna.
Genom judarna följer hela världens ledare och alla människor Satan!
----
Makten att korsfästa Jesus fick Pilatus och judarna av Gud - Jesus´ Fader.
Joh. 19:30 "Det är fullbordat" sade Jesus och gav upp andan.
Joh. 12:31-32 "Nu går en dom över världen. Nu skall denna världens furste kastas ut. Och när jag har blivit upphöjd från jorden skall jag dra alla till mig."
Att Jesus Kristus skulle dö på korset var Faderns vilja.
Gud leder allting för att hans goda vilja ska ske.
Gud har en plan.
Planen började genomföras genom SYNDAFALLET. (1 Mosebok 3)
Jesus kom till världen inte för att döma utan för att frälsa. (Joh,12:47)
Jesus dog på korset för att dra människor till sig - till sitt rike.
Det finns ett evighetsrike.
Till det riket ska Gud samla sitt folk.
När Jesus hade dött sände han en HJÄLPARE - den Helige Ande.
Hjälparen är den som visar vägen och hjälper en kristen att tro och att följa Jesus.
Gud har en plan.
Han har en plan och en ordning.
Världen närmar sig sitt slut då Satan ska bindas för tusen år - innan han kastas i helvetet för evigt.
Först ska världen blir mer och mer fasansfull.
Verktygen till världens moraliska undergång är alla de som av feghet och blindhet följer djävulen och hans folk.
De flesta människor på jorden är verktyg för djävulen.
Om det inte var så skulle världen inte se ut som den gör.
Gud har en plan.
Den planen ska genomföras i hans ordning.
Precis som då Jesus korsfästes följer medlöparna (icke judar) judarna de som vill ha världsherravälde.
Satan har förblindat dem alla.
Med Guds tillåtelse sker det.
Viktiga redskap för djävulen är naturligtvis pressen med de lättköpta journalisterna.
Människor tror på media och märker inte att media ljuger friskt, slavar till "eliten"/satansdyrkarna som de är.
----
Not every item of news should be published. Rather must those who control news policies endeavor to make every item of news serve a certain purpose:
- Joseph Paul Goebbels, Nazi Propaganda Minister -
We are grateful to the Washington Post, the New York Times, Time Magazine, and other great publications whose directors have attended our meetings and respected their promises of discretion for almost forty years. It would have been impossible for us to develop our plan for the world if we had been subject to the bright lights of publicity during these years. But, the world is now more sophisticated and prepared to march towards a world government. The supernational sovereignty of an intellectual elite and world bankers is surely preferable to the national autodetermination practiced in past centuries. - Brother David Rockefeller - C.F.R. and Trilateral Commission Founder
~~~~
Som alla vet är Carl Bildt (och några till) medlem av den ondskefulla Trilaterala kommissionen.
Även nedanstående Anna Ekström (gymnasie- och kunskapslyftsminister) är medlem:
Se upp alla elever, alla skolor och hela utbildningsväsendet!
(Det är förbjudet med hemundervisning för att Satan ska kunna slå in lögnen i barnen och ungdomarna från allra första början. Det är också därför de ska in i förskola och daghem så fort som möjligt.)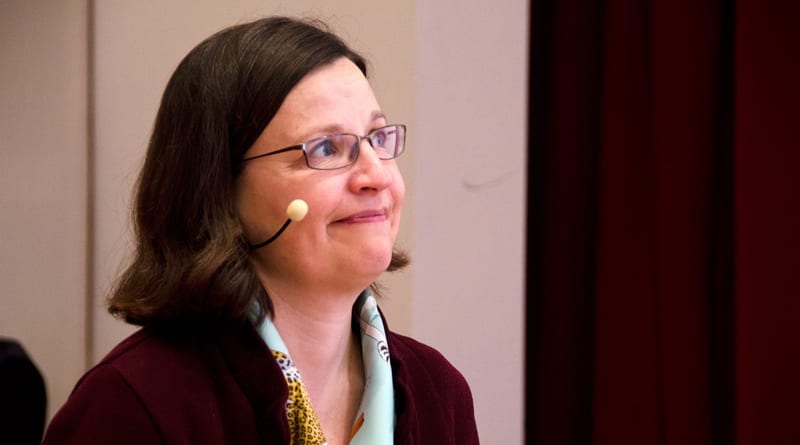 (Klicka på bilden. och se videon! Obs - de som skriver om elitens kriminella handlingar gör det av en egendomlig plikt. Slugheten (orm-liknande beteendet) kallas för Hegelien dialektik).
ÄR DET NÅGON SOM INTE FATTAT ATT SVERIGES REGERING ÄR KRIMINELL. DEN FÖLJER VÄRLDSERÖVARNAS ONDSKEFULLA PLAN - PLANEN ATT SÄTTA SIN GUD SATAN GENOM ANTIKRIST PÅ TRONEN?!
Ett annat av Satans redskap är frimureriet skapat av världshärskarna -. judarna/sionisterna:
The well known rabbi, Isaac Wise, was emphatic when he concluded: "Freemasonry is a Jewish establishment, whose history, grades, official appointments, passwords, and explanations are Jewish from beginning to end."
----
Sanningen kommer att stoppas och kallas för "Hate Speech".
Alla som talar sanning och avslöjar lögnen kan hamna i fängelse eller dödas.
Farligast av allt och det största hotet är naturligtvis Bibeln.
Men även de sanna kristna. är ett stort hot.
Därför har Satan sänt massor av falska kristna in bland Guds folk för att förleda Guds folk.
(Se artiklar om de falska kristna på denna blogg!)

---
GUDS PLAN FORTSÄTTER.
DEN FULLBORDAS MED FRÄLSNING FÖR ALLA SOM TILLHÖR HONOM!
AMEN!
Sök sanningen och du ska finna den!
Ett evigt liv väntar för den som håller ut och förblir i Guds Ord!
Tagged with:
SATAN, ANNA EKSTRÖM, CARL BILDT, TRILATERALA KOMMISSIONEN, ONDSKA, EVIL, ANTIKRISTMNWO, BLODOD SHED, BLOOD THIRSTY, FRIMURARE, JUDAISM, TALMUD, PROTOKOLLET, KABBALA, UN/FN, LÖGN, BEDRÄGERI, KANIBALISM, HOMOSEX, SODOM OCH GOMORRA, JESUS, GUD, BIBELN